Discover the Benefits of Giving Wisely
Did you know there are creative ways to support Illinois Institute of Technology? Ways in which Illinois Tech, you and your loved ones all benefit at the same time?
Such giving techniques are called "planned gifts," because with thoughtful planning, you create win-win solutions for you and Illinois Tech. For example:
You can make a gift that costs nothing during your lifetime.
You can give stock and realize larger tax savings.
You can get a monthly paycheck for life in return for your gift.
You can donate your house, continue to live there, and get a tax break all at the same time.
Leave us in your will.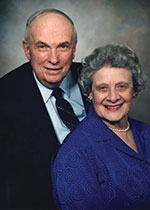 Morgan Fitch Jr. (CHE '43)
Fitch designated a portion of his individual retirement account to Illinois Tech. After Fitch and his wife, Helen, passed, Illinois Tech received the bequest.
Read More

Where to Begin?